The Westbury Senior Living welcomes you to Family Fun Month!
While the make-up of families has evolved over the years, the true heart of a family remains the same. It is a composition of people we allow close and who share this journey called life with us. Sometimes these people are related to us by blood, and other times they are chosen by us and named by us as family.
At its most basic, a family is safety and support through good times and bad. It's your tribe, your people, the place where you begin to define yourself and establish a moral base. At its flourishing best, a family is a sacred legacy of our history, where we come from, and an unconditional, accepting home base we take with us out into the world each day.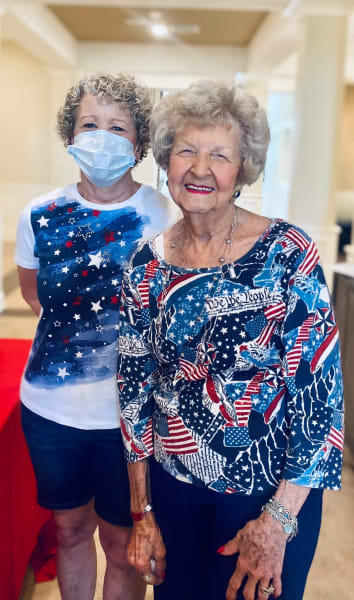 We know it's a crazy, busy, kind of scary world right now. So, we thought, "What better time to revive and remember, as well as appreciate and honor, those we hold dear… our family?"
Here at The Westbury Senior Living, we are excited to join in on the fun and celebrate the sanctity and importance of families!
On Friday, August 12th, we're planning a Family Fun Happy Hour. On Saturday, August 13th, we are beating the heat by getting things wet with a dunk tank, dipping our Executive Director, and cold with a snow cone truck. During our monthly luncheon residents and family members will get raffle tickets when they fill out their surveys; good for raffle prizes, with drawings at the end of the month.
Regardless of whether you come from a nuclear family, a same-sex family, a single parent family, a stepfamily, an extended family, or a grandparent family, or otherwise, we hope you will join us!
Having fun as a family provides important in-the-moment-enjoyment. But at a deeper level, having positive family fun creates memories, improves mental health, lowers bad behaviors in children, models good parenting skills, and promotes adaptability and resilience. Spending time outdoors in sports activities, going for walks or hiking, playing yard games, etc., promotes physical health and encourages conflict resolution and good sportsmanship important for a child's growth and engagement with others.
Here's a little tip. Don't wait for the big things like a vacation (or a party at a local senior living community) to spend time with your family. Quality time can be found in everyday things. Create routines and hobbies. Eat dinner together. Hug. Watch movies. Build things. Make a point to make the time. You will be glad you did.