The Holiday Season is upon us and at The Westbury Senior Living, we are celebrating in a big way! Many of the residents who call our community home spent decades of their lives creating memorable holiday traditions with their families, and it is our goal to celebrate all sorts of traditions to make our residents feel at home. Moments like these are what make the holiday season extra special.
We kicked off the 45 Days of Holiday Cheer on Thanksgiving with a Gratitude Book that allowed residents and staff to share thoughts on what they are most grateful for. In the weeks since, we have gathered to light the candles of the Advent Wreath to reflect on its blessings, enjoyed a cozy hot cocoa happy hour, polished our shoes for St. Nicholas, and learned about the Yule Lads, among other things! Our December Story Corner featured the children's book, "A World of Cookies for Santa" and cookie recipes from around the world.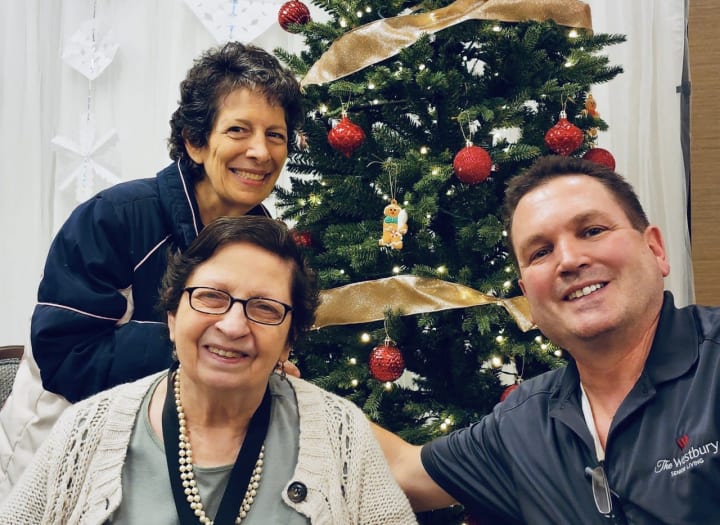 While many of the days are now behind us, the holiday cheer will continue through the end of December and into the first week of January, allowing our residents to enjoy plenty of classic Holiday traditions as well as new and exciting moments created by Arrow Senior Living and our own community team. To round out the 45-day extravaganza, the culinary team will take us on a special daily dining experience to highlight dishes themed around the 12 Days of Christmas!
December 1st was my absolute favorite day of all the 45 Days of Holiday Cheer, because it's when we got to decorate our whole community and fill it with cheer. I love having all the trees, each with a different theme, and seeing how our residents react to each of them!
My family had a lot of traditions to make the holidays special, when my sister and I were younger, but the most important part was we were all together. Now, as an adult, both my sister and I have our own families and we spend the day with them and our significant other. At the end of the day, we go to my parents for drinks and dinner.
We hope you have been following along on Facebook and Instagram as this joyous holiday adventure has unfolded, but even if you haven't, it's not too late to start!
https://www.facebook.com/search/photos/?q=westbury%20senior%20living
Instagram.com/WestburySeniorLiving