In celebration of Pride Month this June, Arrow Senior Living is looking at The Pride Flag, a symbol that is a representation of the forward movements to support and celebrate those in the LGBTQIA+ community. This important piece of the community has a meaning that is described by the colors included.
Red represents life and passion among many cultures. Orange represents healing and is a fun and celebratory color. Yellow is a symbol for sunlight and is said to stimulate new ideas and thoughts. Green is synonymous with nature, a healing place, also associated with prosperity and growth. Blue represents serenity and the ability to feel calm. Purple is the color of spirit, thought to connect us to the spiritual realm.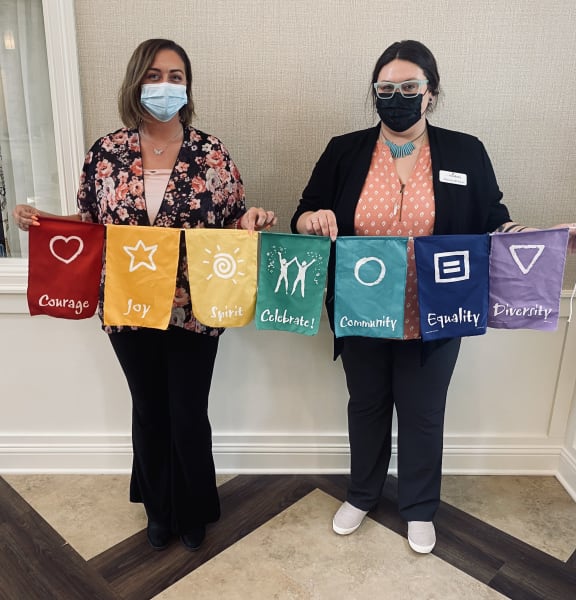 At The Westbury Senior Living Columbia, MO, we feel most connected to orange. In our community we do many celebrations that promote healing in a fun and upbeat way. We strive to always bring in new ideas and programs to keep our residents happy and upbeat no matter where they are on that healing journey.
As Resident Services Director, I love being the person that my residents know they can come to first to talk about anything. I want to be the first person that learns their good news and can celebrate that with them, but also be the person they come to when having a bad day and be able to work through that with them. We have different support groups at the Westbury that our residents can share experiences they are going through with others, that are or have been in the same place. Creating an environment where our residents can share and be heard and supported by others makes it a safe community for them.
In our community, we know that each of our residents have come from different lifestyles and backgrounds. As such, we work to maintain that diverse culture across both residents and staff with targeted programming and staff education efforts. Arrow Senior Living has launched a resident-led Diversity, Equity, and Inclusion (DEI) speaker series for employee and resident education. Residents interview speakers who represent some of the relevant topics of the day related to diversity, equity, and inclusion ranging from non-binary people and use of pronouns to Juneteenth history. Through our tradition's council, which coordinates core resident and employee cultural celebrations and education, we work actively to celebrate diversity within our community. This has created a means for residents and employees to join in recognition of each other. The road ahead is to ensure that diversity and inclusion is not just an initiative. Moving forward requires necessary conversations to address discomfort and to open dialogue on important perspectives. This helps to ensure that we are providing not only an enjoyable place to retire, but one where seniors can feel enriched, safe, and excited about life!